We've been talking to Disney park expert Laurens (@laurens.king) about all the best rides at Disneyland Paris. Keep reading to find out which rides have made his European top 5.
Disney rides are always impressive and full of surprises, especially at Disneyland Paris . I'm here to give you my top 5 rides at Disneyland Paris. In my opinion these are the most beautiful, spectacular or unique.
#5: Pirates of the Caribbean
Recently updated, the Pirates of the Caribbean attraction at Disneyland Paris is both beautiful and charming at the same time. The entrance to the ride has an amazing tropical garden and the theming of the area feels so real, it makes you want to be a pirate. It's a popular attraction and the wait times are never too long. That being said, even if you have to wait 30 minutes, there is so much to see inside of the queue it makes the time fly! In my opinion the Paris ride, is definitely more exiting then the American ones. With all its endless details, this is one of my favourite rides. A highlight for me, is seeing Captain Jack Sparrow at the end of the ride – honestly it's the best update they could have done, such a good touch.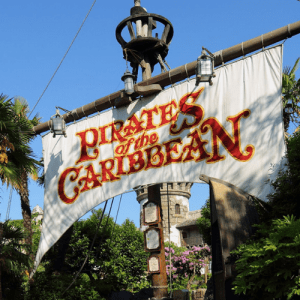 #4: The Twilight Zone Tower of Terror
Are you looking for ultimate thrill? The Hollywood Tower Hotel has got you covered. This ride at the Walt Disney Studios Park is both beautiful and scary, but I like it for so many different reasons. If you have time to do this ride more than once during your visit, you will see that every time you step into an elevator you will have a completely different experience. There are different elevators and every elevator has its own little storyline and every drop from the top of the Tower will come by surprise. I never get bored of the Twilight Zone!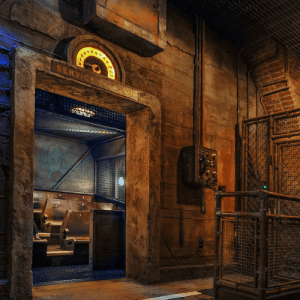 #3: Ratatouille: The Adventure
I really like Disney Pixar's film, Ratatouille and the little Parisian area at the Walt Disney Studios Park feels so inviting and charming. The attraction located here is totally unique, although at  Walt Disney World in America, a similar version will open its doors later this year!  I think it fits perfect in the French resort because you're in France after all. The ride is fun for everyone, very well themed and the storyline is great. I am personally not a big fan of rides where you have to wear goggles to see the 3D screens. However, I will make an exception for this one. Also, if you are hungry, there is an amazing Ratatouille themed restaurant and I will definitely tell you more about that in a later blog post!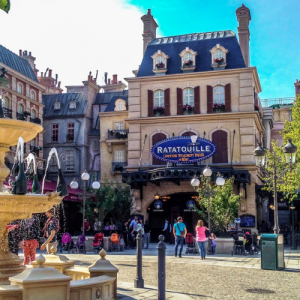 #2: Crush's Coaster
We're still in the Walt Disney Studios Park, which contains another rollercoaster that is not to be missed. Get ready to take a dip into the world of Finding Nemo. Crush's Coaster is a one of a kind ride that is totally unique. I have to warn you though, wait times can be up to 90 minutes and the queue line is not great. Just play some charades with each other and you'll be fine. Another top tip is to get there early as you can't use Fast Passes for this ride. The ride starts through the coral riffs of just like in Finding Nemo and they are so beautiful. Its a rather short ride however, but the rollercoaster after that is fun and almost totally in the dark. I think sitting on the back of a turtle in the EAC (East Australian Current) as it spins around is brilliant fun.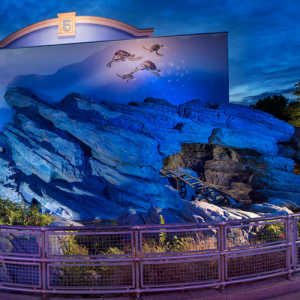 #1: Big Thunder Mountain
This is the most beautiful location in the whole of Disneyland. Located on an island in Frontierland is Big Thunder Mountain and my personal favourite rollercoaster. This one is a proper rollercoaster, it is both fast and fun! One thing that is unique about the Paris version, compared to all other ones around the world is that this one goes deep underground. As you wind around the island, drop beneath the water and surface on the mountain – this ride is packed full of surprises! Hold onto your hats (and ears) because the way back underground is goes really fast. During this adventure all kind of effects are hidden around every corner and it's just simply guaranteed fun. For those of you interested fans among us, the storyline of the rollercoaster ties together with Phantom Manor (which is another must do) is really interesting and takes the whole area to the next level.